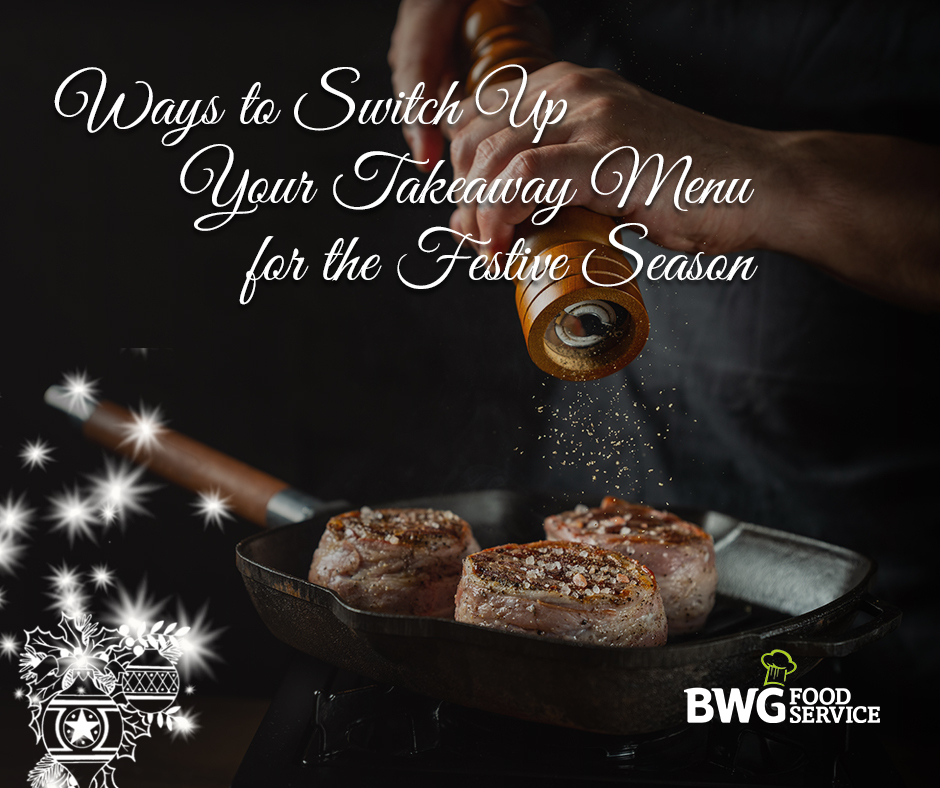 Ways To Switch Up Your Takeaway Menu For The Festive Season
The decorations are up, the stockings are on the wall, and the unmistakable sights and sounds of the holiday season are all around; yes, it's Christmas. Of course, 2020 is a year like no other, and the festive period will be different to anything we've experienced in the past.. What was once a time defined by hustle and bustle has now become a somewhat quieter affair – but there is still time for businesses to maximise their offering for what's traditionally one of the most lucrative spots on the calendar.
And while the switch from dine-in to take-away is one that many in the hospitality industry have made throughout the year, there are more tweaks to be made to make Christmas a resounding success – including shaking up your offerings for the season that's in it. Our Delivering Christmas campaign aims to support businesses throughout the country during the coming weeks, so here's a handful of ideas to incorporate in your takeaway menu.
ENOUGH TO FEED THE WHOLE HOUSEHOLD
Laying on a spread for a close-knit family celebration, or simply filling the bellies of friends and loved ones living under one roof, requires pretty significant quantities – so consider adapting your takeaway menu to satisfy a variety of portioning options. Whole cuts of meat are one option here; curries, pies and other meals made in bulk are others. If you're going to go this route, pay attention to your range of side orders; while they may choose to share the main dish, many customers will fancy grabbing their own choice of accompaniment.
THE DIY OPTION
While at-home kits have proven extremely popular throughout this year, they're worth special consideration at Christmas time – especially if you plan on taking a seasonal break for a few days over the holidays. You might choose to supply the ingredients for budding home cooks, or instead assemble lasagnes and tray bakes ready to be popped into the oven; whichever way you go, options that offer a little flexibility will be a godsend to many families at this time. Remember to carefully compile instructions, too. Not every customer will have the know-how of your head chef!
THE TRADITIONAL FAVOURITES
From turkey and ham (and all the trimmings) to mince pies and mulled wine, we indulge in the same favourites every year – so why not go with what works? Whether crafting a full Christmas lunch to-go, or adding a few little touches here and there, sticking with tried and tested festive foods is guaranteed to strike a chord with lots of customers. Remember, it can be incredibly simple, too; incorporating turkey instead of chicken in mealtime staples like curry, or even lunchtime favourites like sandwiches is an easy change to make, and it certainly lends a more seasonal twist to things.
MAKING THE UPGRADE
Despite Christmas being scaled back to its simplest form, customers may be in a celebratory mood thanks to some well-deserved time off – and therefore open to the idea of pushing the boat out and making their order a little more extravagant. Depending on your offering, your menu could be designed with premium options for those ready to trade up. Collaborate with your chefs and make a plan to incorporate some high-value items into your range; from prime cuts to elaborate finishing touches, it's a great way of making your menu – and your customers! – feel that little bit special.
INCORPORATE SOME MEAT-FREE OPTIONS
At a time when turkey and ham feature heavily, those going meat-free will be in particular need. Allow your kitchen team to flex their creative muscles; while both traditional and premium options might jump to mind immediately for meat dishes, a little invention could bring the same type of seasonal excitement to your veggie dishes. Garlic butter roasted brussels sprouts? Save some for us…
To view our full Christmas range please see our brochure. To order, call our Telesales team at 021 454 8700 or visit Shoplink.ie.
Not registered yet for our online store? Contact a member of our team today.