Ultimate Steak Sandwich Recipe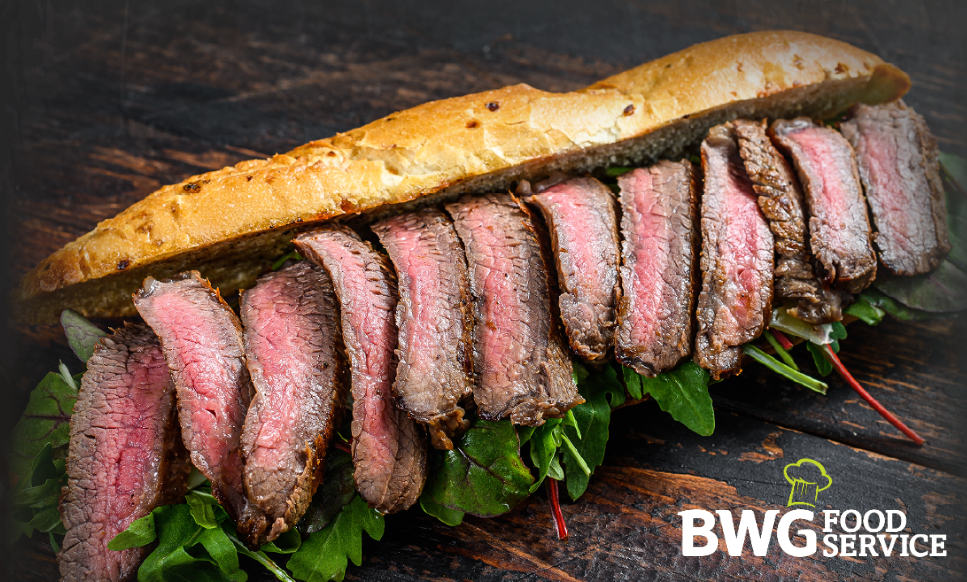 Ingredients
676945 Delifrance Pre-Sliced Ciabatta
696767 William's Gate Exclusive Beef Striploin Roast Approx. 6-7kg
703609 Follain Onion Marmalade
529545 Blenders Real Mayo
705550 Rocket Leaves
638088 White Grated Cheddar
663396 Chef's Kitchen Salt
684697 Chef's Kitchen Cracked Black Pepper
501981  Basso Extra Virgin Olive Oil


Method
For the Beef:
Remove beef from the fridge 1 hour before cooking
Trim off back strap, cut the striploin in half and season generously
Place on an oven tray and out into the oven at 165°c for 75 minutes (100% dry heat)
Remove from the oven, cover with foil and allow to rest for 20 minutes before carving

Assembly:
Spread 1 tablespoon of onion marmalade on the bottom half of the pre-sliced ciabatta
Add 150g of the sliced beef to the ciabatta
Cover the beef with a handful of Irish grated cheddar
Return to the oven for 30 seconds to allow the cheese to slightly melt
Remove from oven and add 25g of rocket to the sandwich
Spread 1 heaped tablespoon of mayo onto top slice of ciabatta and press both sides together gently



To order, call our Telesales team at 021 454 8700 or visit Shoplink.ie. Not registered yet for our online store? Contact a member of our team today.