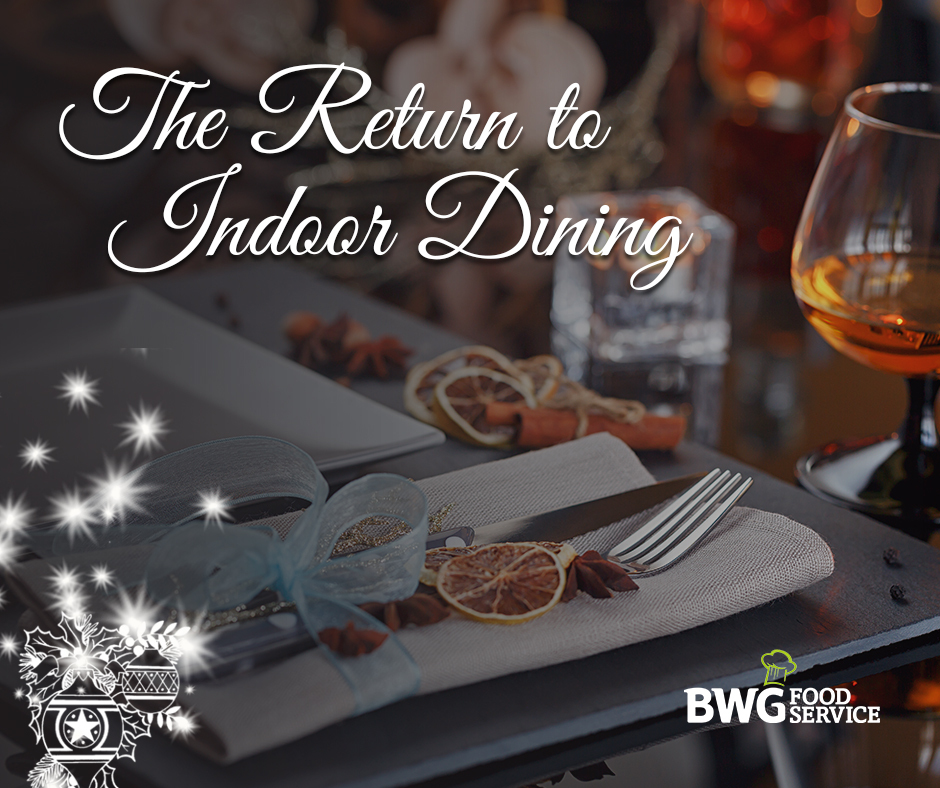 The Return to Indoor Dining
Following the Government's announcement that indoor dining will return from Friday, 4th December, bars serving food, restaurants and cafés across the country are preparing to open their doors once again. It's been a tough time for everyone in the industry, so it's a timely boost ahead of the Christmas period, and looking into 2021, too.
Our Delivering Christmas campaign aims to support foodservice businesses throughout the country during the coming weeks and, to help, we've collated three key things to consider before entering this new phase of your business.
BRINGING CUSTOMERS BACK
You won't be alone in being delighted to reopen your business; from staff and suppliers to customers, it's good news all round, so don't let your reopening pass like it's just another day. Make sure that your website and social media lets everyone know you're back to indoor service, providing all the details customers will need about opening hours and ways to book in.
Special offers or deals may well prove a boost, so they are certainly worth considering. It doesn't have to be much, as the opportunity to return to your establishment is the main attraction, but it never hurts to let your patrons know how much their business is appreciated, especially after such a tough period.
Maximise your chances of building upon success. If you have takeaway menu flyers, make sure they're in plentiful supply for every customer to bring home. If you're selling products, display them clearly and make them easily available. Also, if you're active on social media, let customers know your handles and hashtags. This is a good time to make as much noise as you can.
It's understandable that some people will still harbour reservations about dining out, so address them as best you can; communicate that you're taking every precaution and following guidelines. Even if you've done everything right, not everyone will be back on day one – so trust the process.
PLANNING YOUR MENU
There's every chance that you revamped your menu to cater for a takeaway and delivery service – so what will your offering look like now that you're welcoming customers back?
For a start, it should be different. While you don't need to reinvent completely, there's every chance your customers will be eager to enjoy the items you didn't (or couldn't) offer for delivery. They're also likely to be charmed by a return to immaculate presentation – so if you have a kitchen staff with an eye for aesthetics, now is their time to shine!
Needless to say, it's never been more important to know that you're stocked up and ready to please each and every customer that books into your establishment. Liaise with our team to ensure that you'll have access to everything you need from a product perspective.
To view our full Christmas range please see our brochure. To order, call our Telesales team at 021 454 8700 or visit Shoplink.ie.
Not registered yet for our online store? Contact a member of our team today.
LONG TERM PLANNING
While it's been an incredibly difficult and changeable period within the industry, there's hope that the future is bright. So…what now? For some businesses, adapting to takeaway and delivery service may have opened new avenues for future success. For others, innovations like at-home kits, online cooking classes and more have borne fruit.
In short, the forthcoming period might not be the "return to normal" that so many people are fond of talking about, but rather the beginning of a new chapter of your story. As was the case earlier in the year, looping in your entire team to discuss where you go from here is one of the best things you can do; draw on their knowledge, expertise and observations, as you plan for 2021 and beyond.
It's hard to imagine looking back on the winter of 2020 with hugely fond memories, but emerging from the period with positive ideas and energy could be the impetus to some wonderful days ahead.
Find in-depth and the latest information on health and safety measures to take when reopening on the below resource sites:  
https://www.fsai.ie/faq/coronavirus.html