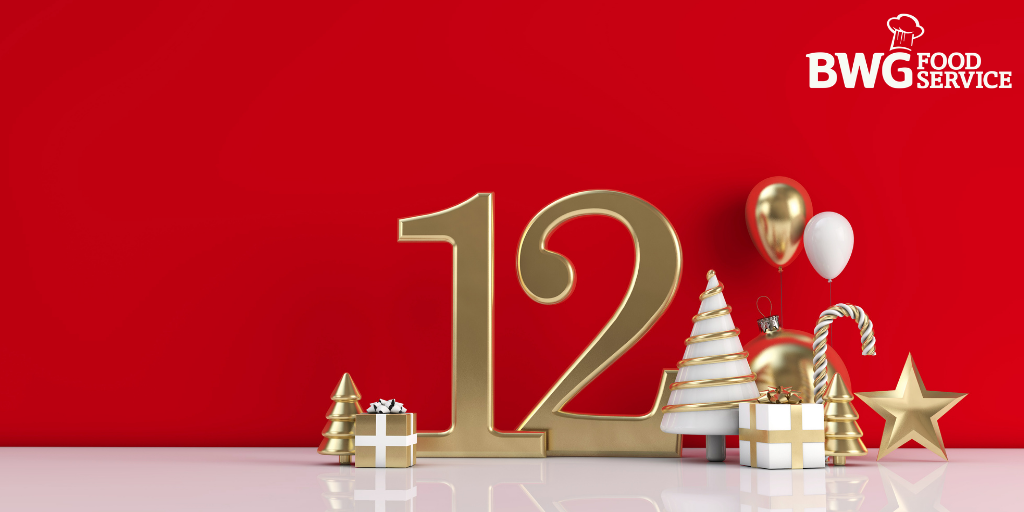 The 12 Tips Of Christmas
The festive season is almost upon us – and while this year's will be very different to normal, that's no reason to be any less excited. In fact, in a year that's been all about thinking outside the box, Christmas represents a chance for your business to embrace new opportunities.
Our Delivering Christmas campaign is designed to support foodservice businesses throughout the country during the coming weeks. To that end, we've picked out a dozen top tips to help bring the curtain down on 2020 in triumphant fashion. For inspiration on how to make the most of the festive season, read on…
1. ENGAGE WITH YOUR COMMUNITY
It might be through social media posts, local advertising or even personalised messages to your email list. However you choose to do it, staying in contact with your valued customers is always important, but especially at this time of year.
2. OPEN FOR BUSINESS
Everyone knows schedules change around Christmas; demand, staffing, family commitments and a whole lot more will likely mean a break from the norm. Make sure everyone knows your plans by posting Opening / Takeaway and Delivery hours for the period online, so nothing will come as a surprise to your customers.
3. CELEBRATE THE VALUE
There's always plenty to cheer during the holidays – and now you can add one more reason to the list! Ensure you're getting the best value this Christmas by checking out our star buys every Monday, from 30th November to 21st December. Prices while stocks last!
4. MAKE YOUR MENU MERRY
From turkey to mince pies, there's certain foods that just taste like Christmas – and now is the time to offer them. Whether taking advantage of seasonal produce or tapping into tradition, make sure your menu is set for the season.
5. THINK ABOUT TIMING
Stocking up the pantry and looking forward to leftover sandwiches; lots of people plan well in advance at this time of year. Offering takeaway items that don't need to be consumed immediately, or can stay in the fridge for days, could be just what many customers are looking for.
6. SELL YOUR WARES
Whether you're a café with bags of coffee beans, a restaurant with jars of sauces, or any other business with products for sale, make sure customers know they're available. At a time when everyone's looking for gift ideas, your offering could be the solution.
7. A LITTLE TOKEN OF APPRECIATION
When it comes to food, everyone loves getting a little extra! A few chocolates, a complimentary starter – just about anything will work as a way of thanking loyal customers, and impressing those joining you for the first time.
8. THE NICE LIST
It's a time for indulgence, when many customers will be in the mood to treat themselves – so be ready to upsell. From premium upgrades to fancy drinks, you can turn a tidy profit by making sure you're ready to offer something special.
9. DECK THE HALLS
While you don't need to replicate Santa's grotto, giving your business a little festive flair with a few fairy lights and some holly branches will be enough to put smiles on faces – and will hopefully inspire customers and staff alike to share the love on social.
10. WRAPPING PRESENTS
Tastefully festive tableware, or suitably seasonal packaging, can inject a little more of the spirit of the season into your offering. It won't require a design team, either; even popping a sticker on your existing take-away bags would add a seasonal touch.
11. HAPPY NEW YEAR
Typical wisdom suggests that the Christmas rush is followed by a January lull – so use the festive period to plan ahead. Consider offering discounts for return customers valid for early 2021, to incentivise them to come back in the New Year.
12. HAVE SOME FUN
We all know it's been a tough 2020 for the hospitality industry, and for the country at large. And while Christmas can be busy and stressful, it's important to take the chance to enjoy it – and that goes for you as well as your customers!
To view our full Christmas range please see our brochure. To order, call our Telesales team at 021 454 8700 or visit Shoplink.ie.
Not registered yet for our online store? Contact a member of our team today.