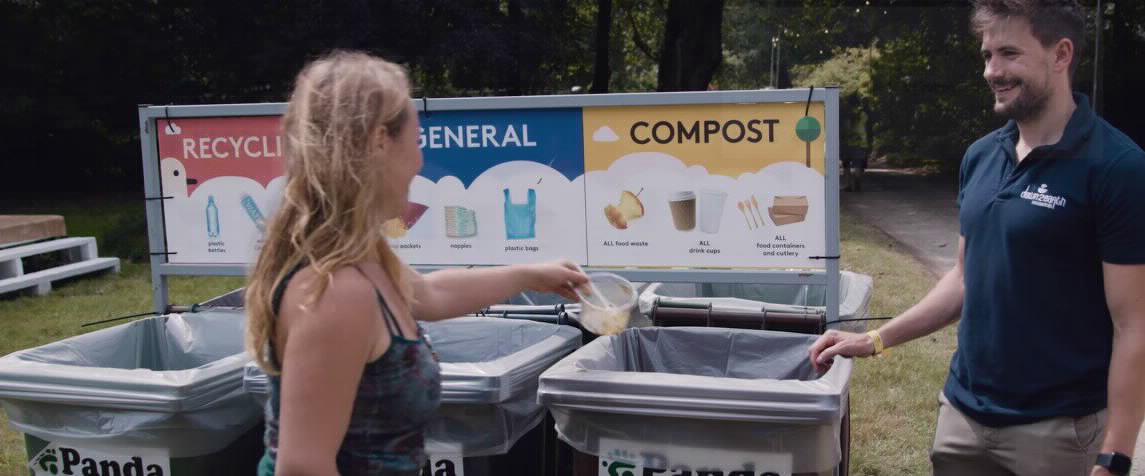 Spotlight on Down2Earth
We recently caught up with John Lynch from Down2Earth Materials to chat about all things compostable packaging. Read on to find out more about how you can work towards better waste management for your business…
How did Down2Earth materials come about?
 "We wanted to offer sustainable alternatives to oil-based non-recyclable non-food products in Ireland. We spotted compostable lines in the US and other countries and thought it'd then be a great time to launch sustainable alternatives here."
What made you want to make a change?
 "We concentrated on exclusively certified compostable materials. We wanted to make them work in Ireland and that's what we've done over the last 10 years. We actively work with the Irish Composting Industry and every province in Ireland has composters and we work with them separately to make sure all our products break down in their food waste. And, what we discovered is that this is what the industry is calling out for. It'll make a better quality of compost, it'll reduce costs for companies.
What's the difference between biodegradable and compostable?
 "There's a big, big difference and not many people realise that! Biodegradable pretty much covers everything and anything that's on the market. Almost everything will biodegrade within an undefined time. Compostable is actually different because it's a legal term. Anything that's certified as compostable, has to break down under European regulations within 90 days. It biodegrades – but extremely quickly – and it has to be done with a commercial composting environment such as Food Waste to be commercially composted. And that's why the fit with BWG Foodservice is a win, win situation.
BWG's core clients have a lot of food waste in terms of cafes, restaurants and hotels, so all our products can go straight into that bin and can be commercially composted within typically four to five weeks, and legally within 90 days. Everything chefs are ordering – lettuce, tomatoes, carrots, cabbage – it's all fertilised from compost made from compostable and food waste."
What is compostable packaging actually made from?
 "So, our packaging is made from all plant-based materials. We don't use any oil-based products in our range. Everything's grown within season and in land that's not used for agriculture. Much better than mining the ground for oil. It's a no-brainer, really!"
Why do you think cafe and restaurant owners make the switch to compostable materials?
 "Personally speaking, I'd prefer compost in my garden than incinerator ashes! Regulations state that we have to separate our food waste and it can't by law go to landfills for incineration. If you send food waste to composting sites it's actually 30-40% cheaper, so there's financial saving for businesses as well as doing the right thing."
 In your opinion, is Ireland far behind other countries in terms of eco-packaging?
"Ireland is leading the way in terms of environmentally friendly packaging because we have the largest infrastructure for composting. All businesses in Ireland who produce food have to have a food waste bin, and all domestic households in Ireland will have to have a brown bin or prove that they are composting their products at home by 2022. So basically, the infrastructure is there domestically and commercially.
We're actually working with the Irish composting industry and Repak, calling for a three-bin in on-street system offering access to disposing of food waste & compostables, dry recyclables, and general waste where you have your recycling and your composting bins right on the street.
Everyone at BWG Foodservice that we spoke to – all of the reps and the customers that we meet – are all jumping on board. But the most important thing that we're trying to get across to people is that there are a lot of products on the market that are biodegradable, degradable that won't break down and compost. With composting, there's is a legal European certification, which we're putting on the outside of our cups and packaging."
 Could you share some pointers for chefs, cafe or restaurant owners to help them work towards better waste management?
 "The first step that chefs and café or restaurant owners can do is implement a three-bin system, and by doing that they will have a compostable and food waste bin; they will have the dry recyclable bin and they will have the black bin for their non-recyclables.
The second thing I would recommend them doing is to have well-designed signage and we can help with that. It needs to be a very visual thing that customers can see. We want to make it easy for customers to segregate products and that saves money, but most importantly; it educates customers. People carry that with them when they leave. Everyone wants to do the right thing but we have to give people options and choices to do that.
 Can you tell me a bit about the range and what it includes?
 "Well, I'm very excited about the range because we have over 400 products – and growing! We very much focus on our reusables – it's not just compostable that we offer. We offer reusable cups and cotton bags. These products need to run in tandem with a compostable, disposable option and the best disposable option.
Our compostable range includes cups, bags for cakes or scones, sushi trays and deli containers as well as everything else in between. We also have some exciting new products launching on the first of January 2020 which will be exclusively available first to BWG Foodservice.
If you want to find out more about Down2Earth compostable and reusable packaging, contact your sales rep today!