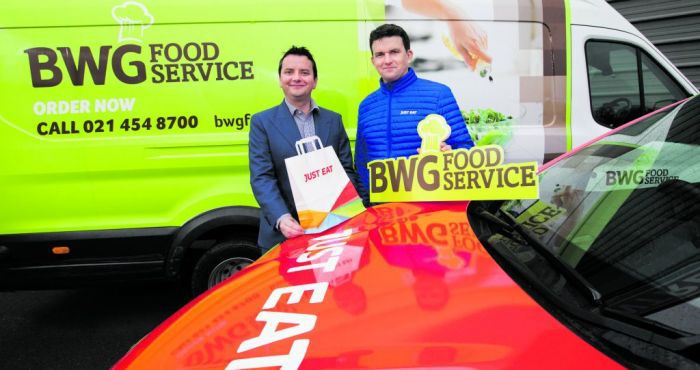 Just Eat announce partnership deal with BWG Foodservice
Just Eat Restaurant partners to avail of exclusive discounts.
Just Eat, Ireland's leading online marketplace for food ordering and delivery, has today announced a unique partnership with BWG Foodservice, one of Ireland's leading foodservice businesses. The partnership provides added benefits for Just Eat Restaurant partners who will be able to avail of a credit discount from BWG Foodservice because they are Just Eat restaurant partners.
The deal with BWG Foodservice allows all Just Eat Restaurant Partners receive a credit on potential orders in the first quarter of every calendar year. Just Eat has over 2,000 restaurant partners nationwide and continues to build that network as well as the choice and range of cuisine on offer. BWG has 20 Value Centre wholesale cash and carry branch locations, meaning that Just Eat Restaurant Partners will be able to source wholesale goods locally.
Just Eat has a strategy of always increasing the value that it delivers to its restaurant partners. By leveraging the bulk buying potential of the 2,000 restaurants there is the opportunity for independent restaurant owners or small groups to access discounts that wouldn't otherwise be available to them. This is all part of Just Eat's stated vision of building the world's largest food community.
Commenting on the new partnership, Fergal Nestor, Commercial Director at Just Eat Ireland, said, "This new partnership with BWG Foodservice represents a new departure for us as we continue to add value for our Restaurant Partners nationwide. With over 2,000 partners who deliver an excellent quality service to Just Eat customers on a regular basis we are constantly looking at new ways to reward and add value to their Just Eat relationship. The exclusive partnership makes it easier for our restaurant partners to deliver the highest quality food and service to our customers by giving them access to discounts that previously would not have been available to them."
Ricky O'Brien, Commercial Manager, BWG Foodservice, added, "We are delighted to enter this new partnership with Just Eat which is a really good fit for our business. Teamed with our Value Centre network we have the ability to react to our customers' needs quickly. We pride ourselves on our strong customer service and flexible delivery service so if the customer can't come to us, we will ensure next day delivery to them. We offer an online order platform for customers which I believe Just Eat members will benefit greatly from."