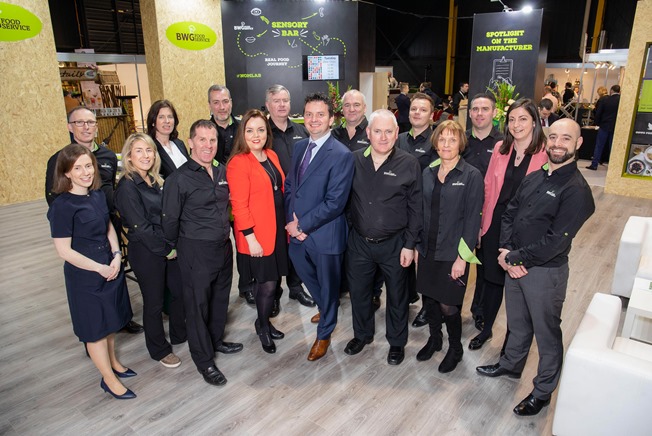 If you're standing still, you're actually going backwards – Ricky O'Brien, Head of BWG Foodservice
Fresh from a recent educational trip to Germany, Ricky O'Brien, our recently appointed Head of BWG Foodservice, is buzzing with energy and excitement. The three day visit to Germany served a number of purposes, not least being the exposure Ricky and his team had to some new and innovative products we hope to bring to the Irish market later this year.
Look-and-learn trips are, he insists, crucial to staying relevant and to ensuring our customers are at the cutting-edge of the foodservice industry. "If you're standing still, you're actually going backwards." "It's all about serving our customers as best we can." "We're always looking to learn and see what we can pick up in different countries that might transfer to the Irish market and this most recent trip to Germany is just one example of this. The foodservice market is ever changing and we need to be at the forefront of those changes. Actually, what I'm truly passionate about is to ensure that BWG Foodservice is leading those changes in the Irish market," he says.
Not one to rest on his laurels, he was also recently appointed to the Board of the Irish Foodservice Suppliers Alliance (IFSA) and is continuing to drive growth year-on-year in BWG Foodservice's sales, on top of the 300% growth we have experienced since 2006. We recently announced record sales of over €100m for the year ending 2018, an increase of 12.5% on the previous period, the milestone marking the eighth year of consecutive growth for us.
"We work with chefs every day. They're at the heart of the industry and I am passionate about our ability through IFSA to bring people together and make a positive difference in the industry. That's the raison d'etre for IFSA and one I'm excited to be involved with.
"Collectively, our team has a driving ambition to be recognised as the best Foodservice supplier in Ireland," says Ricky, in explanation for the ongoing success, "I want us to continue to grow, to push boundaries and bring more innovation and an even better service and range to our customers and, crucially, the business and the team share and inspire those ambitions. "I firmly believe we have been able to grow this facet of  the overall company because of the people we have around us.
Our team is a tight-knit one and everyone has a passion for what we do. At the heart of it all is a deep desire to do the best, to provide the best service for our customers. It is also hugely beneficial that the majority of the team has a strong history within BWG Foods and have risen through the ranks with the company. "BWG Foods has a very strong history of recognising and rewarding talent and hard work and, as a result, the majority of the team have been promoted to their current position from within. This is a very motivating practice for staff and has helped create a loyalty and a team that is willing to go the extra mile, and then a few more miles if really needed."