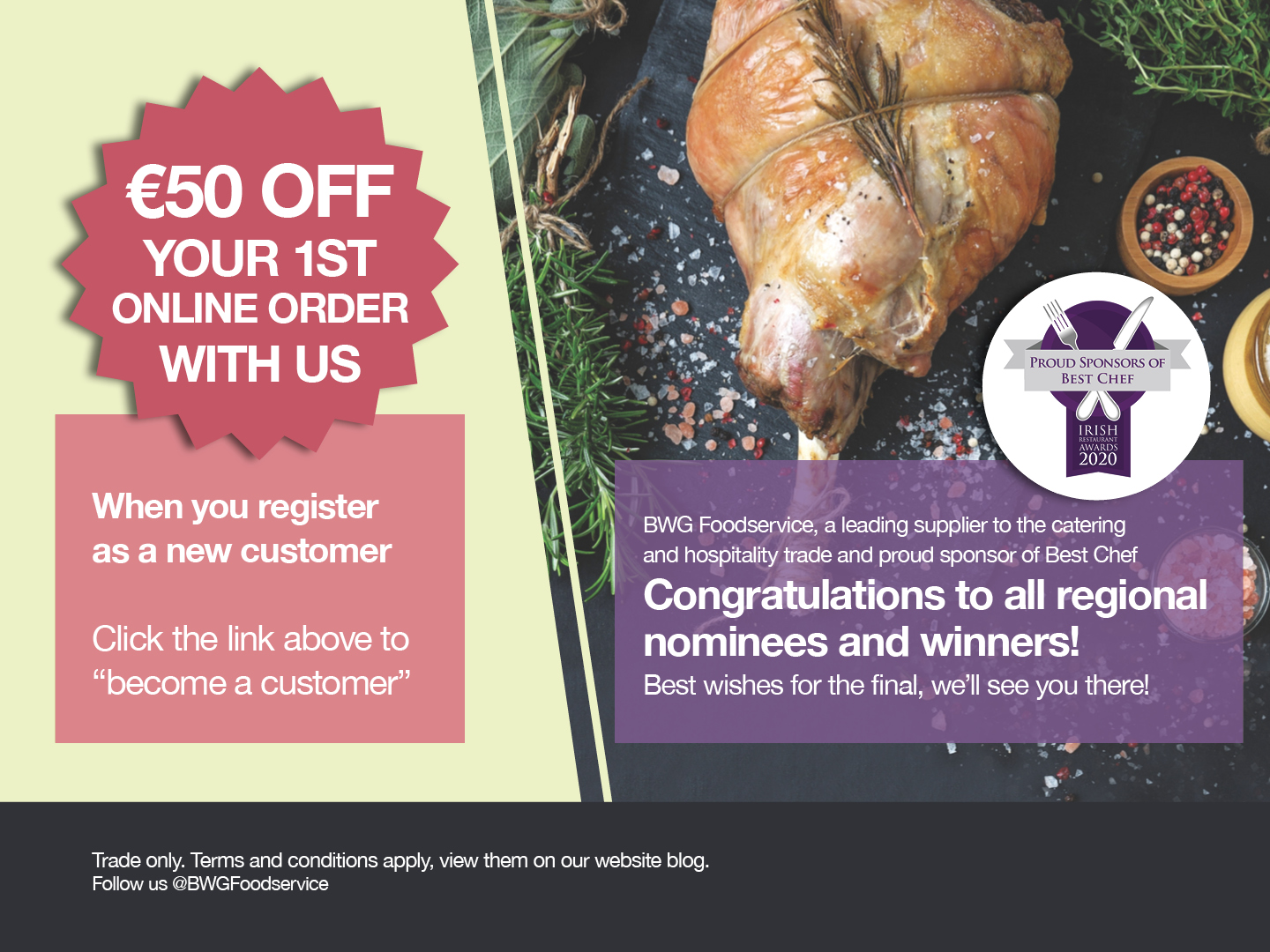 €50 Off Your First Online Order – New Customers only!
BWG Foodservice and the Irish Times Weekend Magazine Offer (Edition 29th Feb 2020)
Terms and Conditions
The promoter is BWG Foods UC trading as BWG Foodservice. Registered office is Greenhills Road, Tallaght, Dublin 24.
The promotion is open to all business owners in the Republic of Ireland only, excluding employees of BWG Foods, their families, agents or anyone else professionally connected with this promotion.
By applying, participants will be deemed to have accepted and be bound by the Terms and Conditions. All applications form part of these Terms and Conditions.
Participants must not already be a BWG Foodservice/Value Centre customer, i.e. this offer is only available to new customers.
This is a discount for an online order only. The order must be placed online through our online store ShopLink
The €50 off offer featured in the 29th February 2020 Irish Times Magazine edition expires at midnight on Friday 6th March 2020.
After the online form has been completed and submitted, new customers will receive a call from a member of our sales team and must progress to complete our partnership in business form including the direct debit mandate in order to qualify for the offer.
Once the new customer is setup they will be provided with a login to our online store; shoplink – shoplink.ie
The €50 off is only valid for one use per customer or customer group per transaction and cannot be used against multiple orders.
The first order must be to the value of €150 or over.
Discount cannot be redeemed against alcohol or tobacco.
When new customers place an order online they must reference a unique code in the PO message box. The unique code will be communicated by a member of the sales team to new customers once they have been successfully setup.
€50 off will be applied to the customers account through a credit note. A credit note will follow after the initial order has been submitted on Shoplink.
The €50 credit note will then be issued against the customers opening invoice.
No cash alternative is available and the discount is non-transferable.
BWG Foods does not accept any responsibility for lost, misplaced or damaged submissions.
Privacy Notice:
We take Data Protection Seriously.  The information we collect will only be used to contact you for business related purposes.